4 MORE CUP WINS TODAY
24 September 2017
Congratulations to our teams in Cup finals today both at the AUL Complex and the Oscar Traynor Road Complex.
Three trophies were won in t ...
UNDER 15 AIRTRICITY LEAGUE FIXTURES AND RESULTS
24 September 2017
To keep up to date with fixtures and results for SKB Under 15 Airtricity League side please READ MORE
UP's & DOWNS IN DDSL CUP FINALS
24 September 2017
Congratulations to Wayne Gallagher and his Under 11 team who made no mistake today in the final of the DDSL Coyne Cup with an emphatic 9-2 win over ...
BIG WEEKEND OF CUP AND LEAGUE GAMES AHEAD
22 September 2017
8 SKB teams are involved in both DDSL and NDSL Cup finals this coming Saturday and Sunday in the AUL and Oscar Traynor Road complexes along with th ...
UPCOMING COACHING DATES IN OCTOBER
22 September 2017
Lee Baker WBA lead coach at ssg level will visit the Club on October 9th to deliver a coaching session to all of our Small Sided Game managers and ...
PADDY MOORE CALLED INTO IRELAND SQUAD
16 September 2017
COMMS CUBE MESSAGE SEPTEMBER 15th.
15 September 2017
The Comms Cube system seems to be affected by some of the gremlins which invaded the website last week so this weeks message is re-published below. ...
WEEKEND ROUNDUP - SKB 4 GALWAY UNITED 1
12 September 2017
Our Under 15 Airtricity team picked up their second win of the season when helped by an excellent first half performance - at the end of which they ...
AIRTRICITY UNDER 15 LEAGUE STARTS WITH AN SKB WIN
12 September 2017
St Kevin's Boys Club Under 15's began their National Under 15 Airtricity League campaign this af ...
5 SKB TEAMS REACH DDSL FINALS
11 September 2017
Five of our teams qualified for DDSL finals over the weekend.
On Saturday our Under 12B who are enjoying a tremendous season got through ...
12 's IN RAVENNA TOURNAMENT THIS WEEK
COMPUTER GREMLINS
Apologies for the gremlins creeping into the website in our fixtures and results for last weekend. Web designers are working on correcting th ...
6 September 2017
SHAMROCK ROVERS 1 SKB 1
Having taken the lead in their previous two Airtricity Under 15 League games our Under 15´s this week had to come from behin ...
3 September 2017
SKB 16 NDSL PREMIER REACH McKAY CUP FINAL
Goalkeeper Ben Murphy proved to be the hero as our 16 NDSL Premier team qualified for the final of the NDSL McKay Cup this morning when they ...
28 August 2017
ATHLONE TOWN ON TOP AT SHANOWEN ROAD
Despite taking ...
28 August 2017
FIRST TEAM OFF TO A FLYER
Our Senior team got their season off to a flyer tonight at St Aidans when they came out of the blocks all guns blazing with three goals in the firs ...
25 August 2017
WEEK 1 U15 AIRTRICITY LEAGUE REVIEW
SKB TEAMS IN PRE SEASON TOURNAMENTS
21 August 2017
With the Under 15 League hogging the headlines over the past week or so many other Club teams were involved in various tournaments at different age ...
PROTEAM SPONSORSHIP FOR AIRTRICITY LEAGUE TEAM
21 August 2017
LITTLE SAINTS SQUADS FOR SEPTEMBER 2nd
THE KIERAN McDAID FOUNDATION
6 August 2017
The Kieran McDaid Foundation - set up in memory of a young Scotish boy who tragically passed away during a training session with his club last year ...
DARA O'SHEA WBA SENIOR TEAM SKIPPER
29 July 2017
Congratulations to Dara O'Shea who captained a WBA senior side today in a pre season friendly against Slough Town following on from his inclusi ...
RYAN CASSIDY IN SCORING FORM FOR WATFORD
29 July 2017
Ryan Cassidy has got off to a great start following his move from SKB to Premier League club Watford by banging in the goals for the Watford's ...
AMERICAN SERIES OF GAMES COMES TO AN END
26 July 2017
The last in the series of games against American opposition took place tonight at St Aidan's when our Under 14 DDSL Premier team prooved f ...
SKB & SAMPDORIA SET TO MEET IN RAVENNA
25 July 2017
Our 12 Premier team will be hoping to emulate our Under 15 Premier side who won the Rav ...
FROM SKB 16's TO WBA 1st TEAM
13 July 2017
These two photographs indicate the progress that Dara O'Shea has made in the past two years from one of his last games for St Kevins Boys winni ...
DARA O'SHEA IN WBA FIRST TEAM DEBUT IN AUSTRIA
12 July 2017
Having played a number of reserve team pre season friendlies last summer and having played all last season with the Under 23's it was fantastic ...
SKB UNDER 8's IN BOHEMIANS YOUTH TOURNAMENT
10 July 2017
On Saturday morning a selection of SKB's Under 8's ...
SENIOR SECTION PRE SEASON

10 July 2017
Our Senior pre season training starts back tomorrow night July 11th at 7.15pm in Wards Cross.
New players are welcome and anyon ...
EOGHAN MORGAN MAKES BOHS DEBUT

6 July 2017
Following on from Warren O'Hora's debut two weeks ago for Bohemians in the Airtricity League against St Patricks Athletic - to ...
SKB PLAYERS ON THE MOVE
5 July 2017
This week sees another group of our players embark on the next stage of their journey as they seek to advance their careers in the game. We ...
14's MOVE ON IN DDSL THUNDER CUP
The recent superiority of our Under 14 DDSL Premier team over main rivals Belvedere FC was again emphatically demonstrated this morning at the Clon ...
24 June 2017
MID SEASON REPORTS AND SURVEYS
DDSL SSG Survey Forms:

Under 8 to Under 10
Survey forms are now avail ...
20 June 2017
THE KENNEDY CUP - DDSL ARE CHAMPIONS
16 June 2017
Best wishes to all 10 SKB players involved in this weeks Kennedy Cup tournament in Limerick.
Aaron Murphy, John McDonagh, James Moloney, ...
SKB 0 FEYENOORD. 1
13 June 2017
Heartbreak at the final hurdle as our 11's great run in the Ostroda Cup came to an end in the final game losing 1-0 to Feyenoord. All the ...
KEVIN ZEFFI PLAYER OF THE TOURNAMENT IN FRANCE
8 June 2017
Our 12's kept their unbeaten run going this morning when seeing off the challenge from Swiss side Etoile Carouge and FC Nantes to qualify for t ...
DDSL SUMMER BREAK ARRANGEMENTS
1 June 2017
The DDSL have made the following arrangements in relation to the summer break for teams involved from under 8 to under 12:
The under 8 to ...
LITTLE SAINTS/SUMMER CAMPS/ROAD LEAGUES NEWS
1 June 2017
​​LITTLE SAINTS COACHING ACADEMY
UNDER 12's IN VILLERET CUP IN FRANCE THIS WEEKEND
1 June 2017
UNDER 11's OFF TO POLAND
30 May 2017
It's time to start the countdown - the Ostróda Cup starts June 9th.

On the 9th of June Ostróda becomes the fo ...
MEDAL PRESENTATION
26 May 2017
Our teams who competed in the SFAI Cup finals - Under 12's 13's 14's and 16's and the Leinster Youth Cup final - 17 ...
DARA O 'SHEA - PREMIER LEAGUE SCHOLAR OF THE YEAR
25 May 2017
Great to see ex SKB man Dara O'Shea pick up the award for best scholar at the Premier League awards presentation this week - h ...
ROSS TIERNEY & BRANDON BERMINGHAM MAKE HISTORY
24 May 2017
Sunday, May 21
Republic of Ireland v Northern Ireland, ...
LUKE WADE SLATER SIGNS PROFESSIONAL FORMS FOR STEVENAGE FC
23 May 2017
Congratulations to Luke Wade Slater as he signs his first professional contract with Stevenage FC after a two year apprenteship, ...
UNDER 9's IN MERVUE TOURNAMENT
23 May 2017
Our under 9A squad travelled to Galway last weekend to play in Mervue United's Invitational Under 10 Tournament.
Thi ...
12 SKB PLAYERS WIN TITLES WITH DDSL SQUADS
22 May 2017
Congratulations to all 12 players who won Inter League honours yesterday with the DDSL representative squads;
Under 12's -



17's GO DOWN IN LEINSTER YOUTH CUP FINAL
22 May 2017
Two goals up and in total control of the game after twelve minutes with strikes from Ger Noone and Jordan Pitshou our Under 17 Premier team somehow ...
GREAT START TO THE WEEKEND SKB 14's & 16's SFAI CHAMPIONS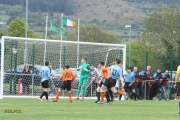 16 May 2017
Congratulations to our Under 14's beating Belvedere FC 2-1 to become the SFAI All Ireland U14 champions and then our Under 16's added anoth ...
12's & 13's MAKE IT 4 OUT OF 4
16 May 2017
After yesterdays two SFAI Cup wins by our 14's and 16's if there was any extra pressure on our 12's and 13's today they certai ...
PHOTOSTREAM OF UNDER 12 & 13 SFAI CUP FINAL
DUBLIN GAZETTE
16 May 2017
Kevin's fantastic 4
ST KEVIN'S Boys are looking to make history this weekend as they attempt to ...
ROSS TIERNEY & RAY O'SULLIVAN IN IRELAND UNDER 16 SQUAD
10 May 2017
OISIN RYAN & LUKE CAMPION IN NDSL SQUAD
Congratulations to Oisin Ryan and Luke Campion from our Under 12 NDSL Premier squad who have been selected in the
NDSL Under12 Acadamy ...
10 May 2017
TAIWO OLADIPO RIP
Deepest sympathy is extended to the family of Taiwo Oladipo who passed away suddenly yesterday in Nigeria.
Mr Oladipo was a politician&nb ...
10 May 2017
IRELAND UNDER 17's LOSE 0-7 BUT STILL QUALIFY FOR EURO Q-F
10 May 2017
In the Euro Under 17 Championships today Ireland lost their third and final Group game 7-0 to Germany but still qualified for the last 8.
...
1st TEAM CLINCH PROMOTION
A 3-1 win in their final league game of a long campaign assured our first team promotion from the Major 1 Division in their inaugural sea ...
10 May 2017
12's. 13's 14's & 16's SFAI CUP FINAL DETAILS
9 May 2017
The times and venue for this seasons SFAI Cup finals have been announced and are as f ...
FIRST TEAM SHOOT DOWN COLLINSTOWN
6 May 2017
Our senior team scored a well deserved win tonight in the Leinster Senior League Lummy O'Reilly Cup when they defeated high flying Co ...
ALL IRELAND WIN FOR FORMER SKB PLAYER
3 May 2017
Congratulations to former SKB player Aaron Byrne who was part of the Dublin Under 21 All Ireland winning team last Saturday against Galway. ...
UNDER 12's WIN WITH THE DDSL SQUAD
3 May 2017
Congratulations to Jamie Murphy, Billy Gilmore, Danny Jeal, Emry Topcu, David Leonard and Kevin Zefi who were part of the DDSL squad who won the Sl ...
15 PREMIER IN ITALY - MATCH REPORTS
27 April 2017
This time last year our then Under 14 DDSL Premier squad represented the club and the country in the Futuri Campioni Under 15 European Cup in Raven ...
15 PREMIER ARE RAVENNA EUROPEAN CHAMPIONS
26 April 2017
Congratulations to our Under 15 DDSL Premier team who became 2017 Ravenna European champions when they defeated ...
17 PREMIER IN LEINSTER YOUTHS CUP FINAL
It is great to see our Under 17 DDSL side get some reward for an excellent season so far when having lost by the only goal to Carrigaline United in ...
23 April 2017
BARCELONA RETAIN ACADEMY CUP
19 April 2017
The chances of a repeat of the 2016 final were great enough but f ...
3 UNDER 15's FEATURE IN IRISH WIN AGAINST NORWAY
18 April 2017
Three of our Under 15 DDSL Premier side were in action today for the Irish Under 15 International team as they beat Norway 4-1 in the ...
ANOTHER CRACKER IN STORE
Having seen off the challenge of teams from three countries- Belguim (KRC Genk 3-0) France (Olympique Marseille 1-1) in group games and Spain (Depo ...
15 April 2017
PAUL HYLAND - THE SKB ACADEMY CUP
Over the coming weekend if the weather's nice and you're at a loose end, take to a trip to St Kevin' ...
11 April 2017
12's. 13's 14's & 16's ALL THROUGH TO SFAI FINALS
9 April 2017
Today saw SKB create a little bit of history when for the first time we have succeeded in having four of our teams reach finals of the five SF ...
2017 ACADEMY CUP GAMES SCHEDULE
5 April 2017
ACADEMY CUP - PARKING RESTRICTIONS
5 April 2017
​Parking restrictions during 2017 Academy Cup Tournament
​We wish advise all spe ...
12 PREMIER REACH SFAI FINAL
3 April 2017
Another game on the road in the SFAI Sketchers Cup for our Under 12 Premier team today saw them in Middleton in Cork for their semi-final tie again ...
17's & 18's OUT OF CUPS
This weekend saw our 17 DDSL Premier and 18 DDSL Premier exit major cup competitions by narrow margins in games that both will have regrets about a ...
2 April 2017
ACADEMY CUP FUNDRAISER RACE NIGHT
30 March 2017
The parents of our 2017 Academy Cup squad are involved in a fundraising drive to help defray the Tournament's running costs a ...
SKB UNDER 16 NDSL PREMIER TEAM
Ciaran Murray and Jimmy Fitzpatrick managers of our Under 16 NDSL Premier team the current Under 15 NDSL Premier League Champions are on the l ...
28 March 2017
UNDER 17's CUP RUN CONTINUES
Our Under 17 DDSL Premier side continued their run of cup victories yesterday with a convincing 3-0 win over Wo ...
27 March 2017
LINE UP FOR ACADEMY CUP 2017
21 March 2017
ACADEMY CUP 2017
Reigning champions F C B ...
ACADEMY CUP - HELP NEEDED
20 March 2017
Next month our Club will be hosting the 9th Academy Cup Tournament. Volunteer help is needed in many ways. We need people for pitch/ grounds securi ...
UNDER 12's 14's & 17's WIN - 16's BEATEN
19 March 2017
Two superb performances today by our Under 12 and 14 DDSL Premier teams saw us win two SFAI Regional Cups titles at a wet and windy Abbotstown.
...
JOSH RAYNOR & CIARAN MURPHY AVIVA BOUND
Josh Raynor from our Under 14 DDSL Premier team won the 3 Premium level tickets on offer in the members draw for the Ireland v Wales game next ...
18 March 2017
12's. 13's 14's 16's & 17's ALL WIN
Seven big National cup games this weekend
In the last of the cup ties over the weekend our U17 ...
12 March 2017
IRELAND UNDER 17 SQUAD - 5 SKB INVOLVED
No fewer than five SKB players are in included in the Irish Under 17 squad for the European Championship Group 8 Elite phase qualifying games to be ...
8 March 2017
OPPORTUNITIES TO JOIN DCU ELITE SPORTSPERSONS COURSE
DCU are launching a new Elite Sportspersons course which may of interest to some of our players sitting their Leaving Certificate this year.
...
7 March 2017
SENIORS RESCUE A POINT
3 March 2017
A second home league defeat in succession was staring our first team in the face tonight when they trailed Rath ...
NEXT ROUND DRAWS FOR SFAI & LEAGUE CUPS
Our teams face the following opponents in their next round games which will be played over the coming weeks.
Q-F SFAI Under 12 Sketchers ...
2 March 2017
GREAT WEEKEND OF CUP WINS
23 February 2017
Our Under 16 NDSL Premier sise came from a goal down to account for Cork visitors Greenwood FC and ensure that ...
SKB ON IRELAND DUTY
KARL MOORE - NO REGRETS
16 February 2017
WHEN PLAYERS OF the stature ...
SKB 4 v WEXFORD YOUTHS 3
13 February 2017
SKB qualified for the semi-final of the Leinster Youths Cup in a thrilling quarter final tie against Wexford Youths played in tough conditions at S ...
THOMAS CARTY OLYMPIC HOPES
13 February 2017
Thomas Carty son of under 13 manager Paddy scored a hard fought 4-1 semi-final win on Saturday night and has reached the final of the All Irel ...
16 NDSL PREMIER REACH REGIONS CUP FINAL
The first game played at St Aidan's on Sunday was ...
13 February 2017
BOYNE ROVERS 1 v SKB 2
​BOYNE ROVERS 1 v SKB 2
The disappointment of the first tea ...
11 February 2017
NEXT ROUND CUP DRAWS FOR SKB TEAMS
Following last weekend's wins in the SFAI and LYC Cups listed below are the draws for the next round of these competitions along with the ...
10 February 2017
FAI COACHING COURSES UPDATE
Please see attached key documentation in relation to coach education with the Football Association of Ireland (F ...
10 February 2017
SATURDAY UNDER 9 YELLOW SQUAD VACANCIES
We have some vacancies in our Under 9 Saturday (Yellow) squad for the coming season
Contact Paddy Moran 087-7816201 or Andy Keating 085-1 ...
10 February 2017
UNDER AGE INTERNATIONAL NEWS
3 February 2017
​Five players who came through at SKB are included in the REPUBLIC OF IRELAND U19 SQUAD for an International ...
SUPER WEEKEND OF CUP WINS
30 January 2017
Goals from Daniel Bergin in the first half and a second after half time from Byron Preston (pictured) were ...
ST KEVIN'S BOYS CLUB - COLAISTE IDE
30 January 2017
Last night in the Clubhouse our Under 17 and 18 Premier players a ...
CHILD PROTECTION COURSE UPDATE
13 January 2017
Another group of our members (Pictured) completed the Child Protection Course last night in the Clubhouse under the guidance of the FAI's Paul ...
BECOME A MANAGER / COACH AT SKB
12 January 2017
St Kevin's Boys Club are always on the lookout for additional managers and coaches at all levels to help us provide football for a ...
SKB IN THE UK
12 January 2017
Last weekend our Under 14 and 15 DDSL Premier teams were at West Bromwich Albion and Wolverhampton Wanderers for two days of assessment, train ...
SKB ARE DBS ALL IRELAND CHAMPIONS CUP WINNERS
Our Under 16 DDSL Premier ...
27 December 2016
18's IN LAST 16 IN FAI YOUTH CUP
Two quality first half strikes from Sean Cummins and Levi Boardman put the 18's on track for a comprehensive 6-3 win over Drogheda Town in ...
27 December 2016
VII POWER- GOL CUP - WELL DONE TO ALL INVOLVED
20 December 2016
Well done to managers Philip Grehan, Stuart Grehan and John Leonard and their squad of players who took part and performed with distinction in last ...
CHRISTMAS RAFFLE RESULTS
CHRISTMAS RAFFLE RESULTS
READ MORE
5 SKB SHIELD TITLES THIS WEEK
Four out of our five Under 13 teams won their respective DDSL Shield trophies over the weekend which emphasises the strength of th ...
14 December 2016
SFAI CUP (LAST 32) DRAWS
Six SKB teams went into the various open draws for the round of 32 games in this seasons SFAI Cups.
The games to be played in Janua ...
11 December 2016
KIAN CLARKE WINS GK OF THE NAVIDAD DE FUTBOL CADETE
8 December 2016
SKB's Kian Clarke was a deserving winner of the goalkeeper of the tournament award following four fine displays during the cours ...
SFAI CUP NEWS
21 November 2016
Our Under 12 and Under 13 DDSL Premier teams advanced in their respective SFAI Cups on Saturday with convincing wins over Home Farm (6-0) and ...
17's & 18's MOVE ON IN LEINSTER YOUTH CUP
13 November 2016
Our 17 and 18 DDSL Premier had impressive away wins in the Leinster Youths Cup - the 17's 6-0 at Albion Rovers and the 18's 7-2 at Phoenix ...
SKB PLAYERS IN IRISH 18's & 21's SQUADS
10 November 2016
Following our four representatives in last weeks Republic of Ireland Under 15 Victory Shield winning squad two more Republic Of Ireland squads anno ...
SKB MAKE UP DDSL UNDER 18 TEAM ....ALMOST
10 November 2016
13 SKB players were in last nights DDSL Youth squad for their opening FAI Inter League game against the Kildare League with 10 of them feat ...
SKB CHRISTMAS RAFFLE 2016
9 November 2016
CHRISTMAS RAFFLE TICKETS WILL BE DISTRIBUTED SHORTLY TO ALL TEAMS.
AARON ASHE DROGHEDA UNITED PLAYER OF THE YEAR
7 November 2016
Congratulations to former SKB player Aaron Ashe who celebrated on the double over the weekend by helping Droghe ...
3 IMPORTANT CUP WINS THIS MORNING
6 November 2016
Our Under 16 DDSL Premier side who are reigning SFAI Under 15 champions faced a tough game away to Cabinteely i ...
IRELAND WIN VICTORY SHIELD
4 November 2016
Republic of Ireland win Victory Shield
WBA JAMIE SMITH AT SKB
3 November 2016
There was a fine turn-out of managers and coaches last night as we continuing the series of coaching seminars by WBA coaches at SKB.
Jami ...
KLOTTO JACKPOT OF €5,800 WON
28 October 2016
Congratulations to Martin Griffith and his son Kenny - who is a member of our DDSL Under 12 B Saturday team - K ...
JACK FUNGE & SEAN McEVOY IN 15's SQUAD
26 October 2016
Congratulations to Jack Funge and Sean McEvoy from the St Kevin's Boys 15 DDSL Premier on being included the FAI Squad for games against Manche ...
SKB MOVE ON IN SFAI CUPS
10 October 2016
Our Under 18 Premier team scored an impressive 5 - 2 away win yesterday morning in Scribblestown against a strong Phoen ...
NEVER A BETTER TIME TO BE A SAINT!!
3 October 2016
With a new generation of young players all over the country inspired by the efforts of the Irish team at Euro 2016 and the role that former ...
WINTER TRAINING SCHEDULE
TEAM ...




22 September 2016
NEW ALL WEATHER PITCH - FOOTWEAR DIRECTIVE
16 September 2016
A TRIBUTE TO LAR MADDEN - BY EAMON SCOTT
14 September 2016
LAR MADDEN - LEGEND AND GENTLEMAN
LAR MADDEN was my first schoolboy ...
NATIONAL CUPS BEGIN
This week sees the start of the SFAI cups at all ages from 12 - 16 with games involving some of our teams at under 14, 15 & 16 both in the DDSL ...
14 September 2016
RESULTS NEWS
Another good day today results wise as our 1st team made it two wins from three games in the LSL when they came away from a tough game in ...
11 September 2016
MINUTES SILENCE FOR LAR MADDEN R I P
A minutes silence was observed at all SKB games today and will be again tomorrow as a mark of respect for Lar Madden.
Everyone associated ...
10 September 2016
SKB 4 DODDERVALE -ORWELL 2

30 August 2016
Our first team recorded their first win in the Leinster Senior League tonight when in their second game they won 4-2 away to Doddervale-Orwell with ...
GAVIN KILKENNY OFF TO AFC BOURNEMOUTH
Following tonights friendly game between our Under 17 and 18 Premier teams at St Aidans a presentation was made on behalf of the Club by Fo ...
26 August 2016
VANTAGE CLUB TICKET WINNER
Congratulations to Sean Keys from our under 8.3 team winning Vantage Club Tickets for the Republic of Ireland V Oman game in the Aviva Stad ...
26 August 2016
15 NDSL ELITE TEAM GK REQUIRED
Our under 15 NDSL Elite team are looking for a goal keeper. All applications are to be made to John Mc Cormack on 086-8134474
...
26 August 2016
UNDER 11's WIN KELLS BLACKWATER TOURNAMENT
23 August 2016
Well done to the players and managers of our Under 11 squads who done so well over the weekend in the Kells Blackwater Tournament.
Paths ...
KELLS BLACKWATER TOURNAMENT
15 August 2016
Congratulations to our under 15 Premier team who won the Kells Blackwater Tournament yesterday afternoon (The advertisement board is a little out o ...
JAMIE GRAY SIGNS PROFESSIONAL DEAL AT STEVENAGE
12 August 2016
GRAHAM BARRETT - THE STATE OF IRISH FOOTBALL
Graham Barrett - one of the few people who has an informed opinion on the state of Irish football and more importantly has ideas and plans to do so ...
12 August 2016
JACK BYRNE MAKING HIS MARK AT BLACKBURN
12 August 2016
After opening their Championship season with a disappointing 4-1 loss to Norwich, Blackburn got back on track on Tuesday night in the League Cup. ...
U15 NDSL A SUNDAY TEAM: PLAYERS/GOALKEEPER REQUIRED
A couple of vacancies have arisen on our Under 15 NDSL A Sunday including a goalkeeper.
If interested contact Noel Murray on 086-0431340< ...
12 August 2016
SUPER CLUB USA IN WARD CROSS
8 August 2016
Players from 27 different States of the USA were involved with the five Super Club USA teams that SKB hosted on ...
UNDER 9's WIN, 10's COME SECOND IN DB SUMMER TOURNAMENT
4 August 2016
A marathon day which started at 10am ended just after 6.30pm this evening when the final whistle blew in the DB ...
ST AIDENS PROJECT NEARS COMPLETION
27 July 2016
The development of our new floodlit All Weather facility is almost complete with just a few more items to be put in place.
This new FIFA ...
ELLENFIELD TRAINING GRID
22 July 2016
TO VIEW ELLENFIELD TRAINING GRID PLEASE CLICK HERE
...
PRE- SEASON TRAINING
The final shape of each squad for the new season are now almost complete with pre-season training getting underway. .
< ...
14 July 2016
FAI COURSES
To view all courses that the FAI have coming up please CLICK HERE
...
5 July 2016
SKB DEBUT IN LSL CONFIRMED
SKB INTO MAJOR 1 SUNDAY
St Kevin's Boys, Collinstown and Willows will play Major 1 Sunday in their debut season in LSL.
Maj ...
29 June 2016
WE ARE PART OF THE GREATEST NIGHT OF ALL
27 June 2016
Ooh what a night!! One that will live forever in the memory of every Irish person for years to come and St ...
DDSL WIN KENNEDY CUP
Congratulations to the DDSL squad including Kian Laachia, Jack Funge, Sandip Chhantaal and Karl O'Callaghan who won the Kennedy Cup today on pe ...
17 June 2016
17 PREMIER ARE LEAGUE CHAMPIONS
Our Under 17 Premier team were officially crowned DDSL League champions today.
It's a great achievement by the b ...
12 June 2016
14's ARE DDSL B LEAGUE CHAMPIONS

9 June 2016
Philip Noonan and Paul Carroll's Under 14's are DDSL B League champions following a long season of 22 g ...
FURTHER UPDATED NEWS ON ROAD LEAGUES 2016
Road League teams Under 7 - 13 are available for viewing ...
3 June 2016
END OF AN ERA
The end of an era tonight at Shanowen Road as our 1st team played their last game in the Athletic Union League and it was a fitting way to ...
31 May 2016
LITTLE SAINTS FINAL NIGHT PHOTOS
To view photos from our Little Saints final session last night please READ MORE
DDSL 13's WIN ALL IRELAND BUT 12's GO DOWN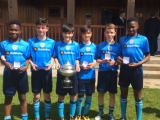 22 May 2016
Congratulations to the six SKB players .Koredea Odumosu, Gavin O'Brien, Len O'Sullivan, Roland Banya, Daniel Wilson and ...
LITTLE SAINTS COACHING ACADEMY END OF SEASON
Little Saints Coaching Academy end of season details.
Coaching on Saturday May 21st as per fixture sheet.
Final Coaching sessio ...
17 May 2016
15's ARE ALL IRELAND CHAMPIONS - 17's LOSE OUT
16 May 2016
Our Under 15 DDSL Elite team got their hands on the SFAI Skechers Evans Cup following their 2-1 win agains ...
9 SKB PLAYERS IN KENNEDY CUP SQUADS
13 May 2016
Nine SKB players in total have been included in Dublin squads for the upcoming Kennedy Cup next month.
Four of o ...
SKB PLAYERS WITH IRELAND'S 18's
11 May 2016
Dara O'Shea(WBA) Robbie McCourt(WBA) Liam Brady(Stevenage) Daniel Mandriou(Brighton) and Luke Wade-Slater(Stevenage) pictured prior to Irelands ...
15B MANAGER DAVE FUREY'S HEAD SHAVE
To view pictures from Dave Furey's headshave for charity click here
...
9 May 2016
BIG WEEKEND OF CUP FINALS
8 May 2016
Our 13 NDSL Premier team kept up their excellent run of results this season by winning the NDSL Kirby Cup 4-1 against Mayno ...
14 DDSL PREMIER IN ITALIAN TOURNAMENT
8 May 2016
Our 14 DDSL Premier side represented Club and Country in the Futuri Campioni Ravenna European Cup in Italy this weekend playing 5 grou ...
SKB JERSEYS WORN IN ZAMBIA
4 May 2016
SKB donated a set of jerseys to a team in Zambia who were delighted to wear them - they even managed a 2-0 win.
...
15's THROUGH TO SFAI CUP FINAL
23 April 2016
Our Under 15 DDSL Elite team qualified for the final of the SFAI Sketchers Evans Cup this afternoon when they b ...
STEPHEN COSTELLOE NEW PREMIER A MANAGER
Stephen Costelloe has succeeded Martin Doyle as Manager of our Senior Premier A team.
He will be joined in this ...
22 April 2016
REFEREES COURSE
A beginners course for referees in the DDSL small sided game will take place within the next two weeks in Abbotstown.
Anyone wishing to t ...
22 April 2016
12's HELP DDSL TO EASY WIN
5 players from our DDSL Under 12 Premier team helped the DDSL to 6-0 win tonight against the NDSL at Abbotstown.
Sean Grehan captain ...
20 April 2016
CELTIC SOCCER ACADEMY PLAYER CAMP
20 April 2016
Celtic Football Club is delighted to return to Dublin for a second Elite Player Camp following the success of l ...
SUMMER COACHING IN THE USA
USIT are currently looking to hire soccer coaches to spend the summer working in the US.
Coach Soccer USA progr ...
20 April 2016
UPCOMING FAI COURSES
BOTH 13's & 16 ELITE OUT OF SFAI CUPS
The great run of our Under 13 NDSL Premier team in the SFAI Sketchers Troy Cup came to an end when they lost to ...
17 April 2016
IRISH UNDER 15's WIN AGAIN
13 April 2016
THE Republic of Ireland U15 side recorded back to back victories over the Czech Republic to finish their international season on a high as ...
AIDENS TOO STRONG FOR LUCAN
St Aidens CBS powered by seven SKB players in the starting eleven were much to strong for Lucan Community College in the semi-final of the ...
13 April 2016
12.5 EXIT DDSL CUP ON PENALTIES
Our 12.5 team had an unlucky exit on penalties from the DDSL League Cup Semi-Final last night against Harolds Cross in Rosary Park in a very entert ...
13 April 2016
FIXTURES ON WEBSITE NOW ON TUESDAYS
The DDSL and NDSL have both requested that we do not publish our fixtures on our website until Tuesday morning due to their contractual agr ...
11 April 2016
SKB TEAMS REACH LEAGUE CUP FINALS
Both our Under 13 NDSL teams reached their respective League Cup finals yesterday - the Premier side winning 7-0 at home to Marino FC while the C t ...
11 April 2016
INTERNATIONAL SNIPPETS - IRELAND 16's DEFEATED BY TURKEY
8 April 2016
THE Republic of Ireland were beaten 2-0 by Turkey in the second of two U16 internation ...
SKB NEW ALL WEATHER PITCH
The all weather pitch project over the last month has gone into full time construction in order to have it ready for the new season. To date we hav ...
8 April 2016
4 SKB TEAMS INTO SFAI CUP SEMI-FINALS
Four SKB teams have qualified for SFAI Cup semi-finals to be played on the weekend April 16/17th;
13 DDSL Premie ...
5 April 2016
IRELAND 17's OUT OF EUROS
2 April 2016
Ireland U17s suffer penalty heartache in UEFA qualifiers
Poland.......................... 0
Ireland...........................0
ACADEMY CUP INDIVIDUAL AWARD WINNERS
30 March 2016
The individual awards at the Academy Cup 2016 went to;
...
ACADEMY CUP 2016 RESULTS PHOTOS AND MEDIA COVERAGE
30 March 2016
All the scores and scorers of Academy Cup 2016 are listed below.
To view Academy Cup photos please click READ MORE
THANK YOU
30 March 2016
Thanks to the players and management of our Academy Cup team who done the Club and Irish football proud on the pitch over the weekend. (Pho ...
MEANWHILE...........
30 March 2016
While the Club was caught up in the past week with the business of the Academy Cup PST the contractors for our development at St Aide ...
16's INTO SFAI SEMIFINAL 14's OUT.
After failing to beat St Francis three times last season our 16Elite finally scored an important win against their rivals with a fully deserve ...
20 March 2016
BOTH 13's INTO SFAI CUP SEMI FINALS
Both our Under 13 Premier teams - DDSL & NDSL reached the semi finals of the SFAI Sketchers Troy Cup today with wins over Letterkenny Rove ...
19 March 2016
FAI 3 ANNUAL AWARDS LISTS
18 March 2016
SKB are again well represented in the annual nominations list for the prestigious FAI 3 Player of the Year awar ...
LATEST ACADEMY CUP VIDEO
ACADEMY CUP ADMISSION PRICES
Admission prices for Academy Cup Tournament
Ent ...
16 March 2016
SKB 1 BUTTERCRUST UNITED 2
Our AUL Senior Saturday lost out in the Club's first cup final of the season to Buttercrust United 1-2 in the final of the Paddy Cole C ...
15 March 2016
DARA O'SHEA - STAR MAN IN IRELAND'S UNDER 17's
4 March 2016
SUMMER SOCCER DEBATE - SKB VIEWPOINT
Summer Football
2 March 2016
ACADEMY CUP PROMOTION VIDEO
6 WINS AS NATIONAL CUPS TAKE CENTRE STAGE
Well done to all our players and staff involved in cup ties over the weekend. Having six teams in the last eight of National cup competitio ...
22 February 2016
ACADEMY CUP 2016 PRESS RELEASE
18 February 2016
ACADEMY CUP
PRESS REALEASE 2016
...
ACADEMY CUP 2016 FIXTURES
18 February 2016
SKB ACADEMY CUP 2016
GROUP 1: &nbs ...
LUTON TOWN 3 SKB 4 STEVENAGE 3 SKB 1
18 February 2016
Today in their second game of their trip SKB 17 Super came from 3-1 down to defeat Luton Town 4-3.



WAYS TO FUND SKB ALL WEATHER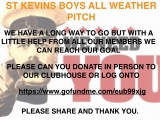 15 February 2016
We have started our fundraising appeal but a long way to go but with a little help from all our members past and present we can reach our g ...
SKB 16 ELITE STORM BACK TO REACH LAST 16
SKB 16 ELITE 5 v VILLA FC 2
Like the 15's yester ...
14 February 2016
ST KEVIN'S BOYS CLUB NEW ALL WEATHER PITCH
8 February 2016
As most people know construction of St Kevin's Boys Club new all weather pitch at St Aidans School in Whitehall will begin in Mar ...
SKB AGM FEBRUARY 22nd
IRELAND UNDER 15's BEAT AUSTRIA
6 February 2016
REPUBLIC OF IRELAND 2 v AUSTRIA 1
SKB players Ray O'Sullivan and Jack Kelly score ...
SATURDAY FEB 6th ROUND UP
SKB Under 14 Premier and Belvedere provided an entertaining 2-2 draw at Shanowen Road this morning in a game in which both teams had chance ...
6 February 2016
ACADEMY CUP 2016
TODAYS SFAI & LFA CUP GAMES
Four more SKB teams made progress in national and provincial cup tournaments today.
Our 18 Super team were forced to play their "hom ...
31 January 2016
SENIOR SATURDAY SIDE INTO PADDY COLE CUP FINAL
A mixed weekend of results in the senior section this week with the Saturday team qualifying for the final of the AUL Paddy Cole Cup following thei ...
25 January 2016
IRISH UNDER 15's IN TURKEY NEXT WEEK
21 January 2016
Congrats to Kian Clarke, Ray O'Sullivan, Kameron Ledwidge, Jack Kelly and Jamine Nwanze on their call up to ...
GEORGES PARK WELCOMES SKB 13's 14's & 15's PREMIER TEAMS
Following on from our Under 12 Premier teams trip to Barcelona at Christmas for the prestigious Powerade Cup tournament our Under 13 14 and 15 ...
8 January 2016
LITTLE SAINTS COACHING ACADEMY RESUMES
Little Saints Coaching Academy resumes this Saturday 9th January.
Please see fixtures on orange tab at top of main page.
...
7 January 2016
SKB WIN CHAMPIONS CUP FINAL
Our Under 13 Premier DDSL team maintained our impressive record in DB Sports Champions Cup Finals -five wins in six appearances - when ...
27 December 2015
12 PREMIER IN BARCELONA
20 December 2015
Our Under 12 DDSL Premier team led by Philip Grehan, Karl Lambe and Rob Doran are mixing it with some world class Academy teams in&nbs ...
WERE YOU LUCKY IN OUR XMAS RAFFLE??
1st Prize; Linda Mooney c/o HCS.
2nd Prize; G Doyle c ...
18 December 2015
CHRISTMAS ARRANGEMENTS
Last session of Little Saints Coaching Academy will take place on December 19th and resume on January 9th 2016.
Christmas raffle will tak ...
16 December 2015
SFAI LAST 32 CUP DRAWS
The draws have been made for the Last 32 teams in the SFAI Cups;




14 December 2015
THOMAS CARTHY DEFEATED IN NATIONAL ELITE BOXING FINAL
Those of you following the progress of Thomas Carthy - son of SKB Under 12 Manager Paddy - unfortunately lost a points decision to three times All ...
12 December 2015
EX SKB MAN ROBERT HARVEY ON FIFA REFEREES LIST
UEFA Referee Categories for Winter 2015/16 including new FIFA Match Officials




11 December 2015
12 DDSL PREMIER SFAI WIN - 13 MAJOR OUT
For the third Saturday running weather conditions played havoc with fixtures lists and those games that survived were played in very testin ...
5 December 2015
13's LEAVE IT LATE. 14's & 15's WIN IN DUNDALK IN SFAI CUPS
A 6-0 win over Quay Celtic in Dundalk this morning by our Under 14 NDSL Premier side ensures we are represented in the open draw for the last 32 of ...
1 December 2015
IRISH UNDER 18 (1) v (3) CZECH REPUBLIC
THANKS TO ALL WHO SUPPORTED FRIDAYS HEAD SHAVE
1 December 2015
Fridays head shaving event at ...
IRELAND UNDER 15's WIN TODAY
26 November 2015
The next batch of SKB players that are following in the footsteps of Robert Brady and Jeff Hendrick and who hope to reach the heights that ...
BIG WEEK OF SFAI CUP GAMES
24 November 2015
Five SKB teams are involved in important SFAI Cup ties this coming weekend as we near the open draw part of the ...
14P NDSL & 13 PREMIER ADVANCE IN SFAI CUP
Two goals from Killian O'Brien and the other from Ope Abriu gave our 14Premier NDSL side a comfortable 3-1 away win over Corduff F C this morni ...
22 November 2015
SKB INTEREST IN FA YOUTHS CUP CONTINUES
Stevenage Under-18s with Luke Wade-Slater, Liam Brady, Jamie Gray and Mikey Cregan in their team traveled t ...
19 November 2015
IRELAND UNDER 19's LOSE v SCOTLAND
SKB MEN OFF TO EURO 2016
17 November 2015
Congratulations this morning to SKB men Robbie Brady and Jeff Hendrick and also not forgetting video analysis m ...
DAILY MAIL COVERAGE OF SKB STARS
Mail Online reporter Craig Hopes article and photographs on Jeff Hendrick and Robbie Brady
18's MOVE ON IN LYC
16 November 2015
Bad weather has played havoc with fixture lists this weekend with the majority of pitches being declared unplayable
TALENTED KEANE COOKE
16 November 2015
Congratulations to SKB Under 15B Player Keane Cooke - aka Cookie who won silver and bronze medals at the Tae Kwan Do Open International Tournament ...
SKB PLAYERS WITH IRELAND IN VICTORY SHEILD TOURNAMENT
5 November 2015
New Head Coach Paul Osam's first tournament with the Irish under 16 International side ended without a win when they played a 1-1 draw against ...
READ DION FANNING ON JACK BYRNE
4 November 2015
Follow the link below to read an indepth interview in last Sunday's Independent by Dion Fanning with Jack Byrne:
GOLF FUNDRAISER THANK YOU
4 November 2015
SKB UNDER 13 PREMIER TEAM WOULD LIKE TO THANK THE FOLLOWING LIST OF SPONSORS FOR TH ...
LEINSTER JUNIOR UP DEFEAT & SUNDAY UPDATE
Kippure Park came from 0-2, 2-3 and 3-4 behind to cause a surprise in beating our Premier A side 7-6 on penalties in the ...
2 November 2015
SATURDAY ROUND UP
Two games at Shanowen Road today produced two home wins as our 13 Premier and 14 Premier teams kept their runs going with 2-0 and 3-0 wins respecti ...
1 November 2015
SOCIAL MEDIA
SKB will no longer be posting details of hat trick scorers in small sided games ages 8-10 inclusive on their Facebook page, their website o ...
19 October 2015
DAVE Mc KAY
Dave McKay played all of his schoolboy football for SKB.
He was part of an excellent team that contained players such as Ronan Finn, Karl ...
11 October 2015
FIRST TEAM WIN IN AUL LIDDY CUP
Our first team overcame Castleknock Celtic this morning to move into the next round of the AUL Liddy Cup on a 6 ...
11 October 2015
OLIVIA ROSE CANDLES
8 October 2015
SKB would like to thank OLIVIA ROSE CANDLES for t ...
3 GOOD RESULTS AS SHANOWEN ROAD PITCH RE-OPENS
20 September 2015
The pitch at Shanowen Road re-opened yesterday following a longer than usual summer break for maintenance. The delay was mainly due to an o ...
FAREWELL MARTINA - BEST OF LUCK!!
17 September 2015
All at SKB would like to wish outgoing vice-chairperson Martina Gavin the best of luck as she and her husband Joe embark on an exciting new ...
DDSL MANAGERS INFORMATION 2015/16
Please refer to the link below and click on the document summary for season for information on important changes from the DDSL reg ...
17 September 2015
DRIVE CAREFULLY
With a large number of teams now using the Club Complex nightly for training we would like to remind all mo ...
14 September 2015
UNDER 13 PREMIER PARENTS FUNDRAISING
14 September 2015
Well done to the parents of our under 13 Premier team who took part in the "To Hell And Back" challenge as part of their fundraising effo ...
FIRST TEAM WIN 5-1 IN FAI JUNIOR CUP
Our first team are through to the second round of the FAI Junior Cup following their 5-1 win at home to Dundalk side Quay Celtic this ...
13 September 2015
REGISTRATION OPEN FOR LITTLE SAINTS COACHING ACADEMY
You can still register your child any Saturday afternoon from 1-45pm in St Kevin's Boys Clubhouse, Larkhill/Crestfield Road, Whitehall. ...
10 September 2015
IRELAND UNDER 19's SQUAD v ITALY
UPCOMING FAI COACHING COURSES
For any SKB Manager/Coach who wishes to take part in coach education through the FAI the courses below are coming up in the next few months ...
2 September 2015
U13 GK REQUIRED / U17 A PLAYERS NEEDED
Anto Martin our under 17A Sunday DDSL manager needs another couple of players to fill his squad for the coming season. Any players interest ...
19 August 2015
PRE SEASON TOURNAMENTS IN FULL FLOW
17 August 2015
SKB teams have continued their pre season preparation by participating successfully in further tournaments over the weekend. Our 13's a ...
HIBERNIA CUP
17 August 2015
Congratulations to Captain Kameron Ledgwidge, Ray O'Sullivan, Kian Clarke Katlego Mashigo who were part of the Irish Under 15 squad at this wee ...
SKB PLAYERS IN IRISH HIBERNIA CUP SQUAD
13 August 2015
2 AWAY LEAGUE GAMES TO START AUL 1 SEASON
10 August 2015
Our first team's impressive pre season form continued today when they defeated Leinster Senior League outfit Dublin Bus 4-2 ...
STEVENAGE SIGN 4 SKB BOYS
10 August 2015
Football League side Stevenage have sign four of our highly promising young players.
Pictured are Liam Brady, Mi ...
MANAGER REQUIRED FOR UNDER 15 TEAM
Our third Under 15 team who will play in the DDSL on Saturdays are in urgent need of a Manager.
A fully committe ...
7 August 2015
SKB SENIORS IN ACTION THIS WEEK
LEE HANLON SCOOPS KLOTTO JACKPOT
24 July 2015
Congratulations to Lee Hanlon on winning last nights Klotto Jackpot of €4,000 -
see ...
PRE-SEASON TRAINING UNDER WAY FOR ALL TEAMS
With the trials process now over we would like to thank all of the players and their parents who attended in such huge numbers - there ...
22 July 2015
READ JAMES LAWTON'S ARTICLE ON JACK BYRNE
James Lawton: Jack Byrne a survivor in cruel game of increasing odds
AUL SENIOR SECTION PRE SEASON TRAINING
3 July 2015
Pre season training for our AUL Senior section starts on July 9th at 6.45pm in The Royal College Of Surgeons (Old Airport Road, beside Carlton Hote ...
JACK BYRNE IN HOLLAND AND OTHER NEWS
30 June 2015
Fresh from signing his new three year contract at Manchester City Jack Byrne arrived in Holland today for a season loan spell at S C Cambuur where ...
CLUB PRESENTATION PHOTOS
Click on the link below to view some photos from the presentation on Sunday
LUKE WADE SLATER
23 June 2015
Luke Wade Slater played his last game for St Kevin's Boys last night when he helped our 17 Super complete a League and Cup double in the DDSL 1 ...
17's ARE LEAGUE CHAMPIONS & LEINSTER KINGS
23 June 2015
Tonight our 17 super side added the DDSL Under 17 Super League title to the Leinster Youth Cup that they won so convincingly last Saturday when the ...
WOULD YOU LIKE TO MANAGE A TEAM??
In view of the ever increasing amount of players wishing to join St Kevin's Boys Club we are continually on the lookout for people to join our ...
18 June 2015
SKB TRIALS 2015
ST KEVIN'S BOYS TRIALS
9 June 2015
17's IN LEINSTER YOUTH CUP FINAL ON JUNE 20th
Our 17 Super team defeated Lucan United (18's) 5-1 in the semi-final of the Leinster Youth Cup last Sunday morning in Celbridge t ...
9 June 2015
SKB NDSL 12 PREMIER WIN FINGAL CUP
8 June 2015
SKB Under 12 NDSL Premier won the Fingal Cup played yesterday at Swords Celtic F C - well done to Mark, Damien and all the boys. < ...
TRAGEDY AT SHANOWEN ROAD
St Kevin's Boys Club join with Belvedere Football Club and the wider football community in mourning the tragic death of Shetami Ayetigbo o ...
1 June 2015
TOM BATES IN SKB
Last night we were again delighted to welcome as part of our strategic link with West Bromwich Albion - Tom Bates READ MORE
CUP FIXTURE & RESULTS UPDATE
13's WIN DDSL PREMIER LEAGUE
Our 13 Premier team won the DDSL Premier League tonight when Leixlip United defeated St Joseph's Boys 1-0 to leave our lads top of the pile wit ...
26 May 2015
LEAGUE TITLES FOR 11B1(SUN) & NDSL 12A
25 May 2015
Three more League titles were won today by SKB teams two of which were Under 11 DDSL B1(Sun) and 12A NDSL.
Ma ...
16 DDSL PREMIER LEAGUE AND CUP DOUBLE
25 May 2015
When our Under 16 DDSL Premier team defeated main rivals Cherry Orchard 4-2 today with goals from Mikey Cregan (2) Evan Pierce and Ryan Grayd ...
SENIOR SATURDAY TEAM'S BIG WIN IN AUL FINAL
22 May 2015
Our Senior Saturday team ended their season in great style tonight when they added the AUL Myles O'Neill Cu ...
DOUBLE LUCKY STRIKE FOR 12.4 SUNDAY PLAYERS
The latest SKB Vantage Club draw for Premium FAI International match tickets saw lightening strike twice for our Sunday Under 12 DDSL 4 team as Dan ...
22 May 2015
11A (SAT) COMPLETE THE DOUBLE & 16P NEARLY THERE
Last night our 11A(Sat) confirmed last weekends 5-4 DDSL Condren Cup victory over Lourdes Celtic in much more c ...
22 May 2015
14's WIN DDSL THUNDER CUP & TONIGHTS OTHER RESULTS
The DDSL Thunder Cup won won by the Club for the second time in three years tonight when our 14 Premier team de ...
20 May 2015
12 PREMIER ARE ALL IRELAND CHAMPIONS
17 May 2015
Our Under 12 Premier team were crowned SFAI Danone Cup champions following their well deserved 4-0 win over Crumlin United at Jackson Park.
...
16 PREMIER LEAVE IT LATE IN McGRATH CUP FINAL
Our 16 Premier team put in a sluggish performance for sixty of the eighty minutes in the final of the DDSL McGrath Cup against Home Farm at the AUL ...
17 May 2015
15's GO DOWN FIGHTING IN SFAI FINAL
Defeat was a bitter pill for our Under 15 DDSL Premier side to take when they went down 2-4 in a penalty shoot-out in the final of the SFAI Evans C ...
17 May 2015
16 NDSL PREMIER WIN McKAY CUP
Our 16 NDSL Premier team came from behind to record a 5-2 win over McKelvey Celtic in the final of the NDSL McKay Cup......

...
17 May 2015
13 MAJOR & 13.5 BOTH EDGED OUT IN FINALS
The concession of two late goals proved to be the undoing of our 13 Major team in the final of the DDSL Flood Cup where they went down 3-1 despite ...
17 May 2015
11A (SUN) MISS OUT ON FITZGERALD CUP
St Josephs Boys proved too strong for our 11A (Sun) side winning 2-0 in the final of the DDSL Fitzgerald Cup
...
17 May 2015
11A (SAT) WIN CONDREN CUP
Our 11A (Sat) won the DDSL Condren Cup in a dramatic final played at the AUL Complex this morning coming from behind both in normal time and extra ...
17 May 2015
15A WIN DDSL COX CUP
Congratulation to our 15A DDSL squad who with under 13 goalkeeper Kian Laachia in fine form in goal won the DDSL Cox Cup with a 3-2 win over Mullin ...
17 May 2015
SKB ROAD LEAGUES - FOOTBALL FUN FOR 5-12 YEAR OLDS
Our Road Leagues kick off on Tuesday June 2nd in Ellenfield Park (Swords Road beside Whitehall Church)
SENIOR SATURDAY TEAM IN AUL FINAL
12 May 2015
Our Senior Saturday team duly qualified for the final of the AUL Myles O'Neill Cup when they defeated Balscadden FC 2-0 in the second leg of th ...
JACK BYRNE STARS IN MANCHESTER CITY UNDER 21 EURO WIN
12 May 2015
Ireland underage international Jack Byrne was over-joyed with Manchester City's under-21 International Premier Leag ...
IRELAND UNDER 17's DEFEATED BY ITALY
Ireland lost their second group game in the U17 Elite finals in Bulgaria yesterday 2 - 0 to Italy and now must defeat England in their final game o ...
11 May 2015
ALL DDSL CUP FINALS THIS WEEKEND POSTPONED
Due to the recent inclement weather pitches in the AUL Complex remain waterlogged in places.
As a result this weekends DDSL finals progra ...
7 May 2015
SENIOR SATURDAY TEAM BIG CUP WIN
Our Senior Saturday team took a major step towards qualifying for the final of the AUL Myles O'Neill Cup when t ...
2 May 2015
16 PREMIER WIN THRILLER TO REACH McGRATH CUP FINAL
29 April 2015
It was 3-2 at the end of an absorbing Paul McGrath DDSL Cup semi final tussle between our 16 DDSL Premier side and arch rivals Cherry Orchard ...
12A WIN LEAGUE
Congratulations to our Under 12 Saturday DDSL A team who are the first team in the Club this season to be confirmed as League winners - wel ...
27 April 2015
ANOTHER WEEK OF IMPORTANT CUP TIES
Our 11A Saturday reached the final of the DDSL Condren Cup with a comprehensive 7-1 win over local rivals Home Farm at the VEC Gro ...
23 April 2015
12's & 15's REACH SFAI FINALS
18 April 2015
SKB 2 Belvedere 2. SKB win 5-4 on pens after extra time.< ...
SKB 17 SUPER HIT PATS FOR 7 IN LYC
The long awaited Leinster Youth Cup tie between DDSL Super League rivals SKB and St Patricks Athletic finally went ahead last night at Shanowe ...
17 April 2015
LUKE NOLAN & GAVIN KILKENNY ON IRELAND DUTY
16 April 2015
Congratulations to Luke Nolan and Gavin Kilkenny from our Under 15 Premier team who were part of the Irish Under 15 International squad who played ...
13 PREMIER NDSL REACH CUP FINAL
16 April 2015
Both of our under 13 NDSL teams - Premier and A - can feel proud of their performance last night in the semi final of the NDSL Kirby Cup. Although ...
BACK TO NORMAL WITH BIG CUP & LEAGUE WINS
After all the excitment of last weeks Academy Cup Tournament it was back to normal this weekend with our teams seeking to advance in DDSL a ...
11 April 2015
DEPORTIVO LA CORUNA -!!CHAMPIONEES!!
9 April 2015
The St Kevin's Boys Academy Cup takes up residence in Spain for the first time as Deportivo La Coruna emerged victorious after three days of te ...
SKB TRIALS FOR NEXT SEASON
In response to numerous enquiries;
SKB TRIALS FOR SEASON 2015-2016.
JEFF HENDRICK - YOUNG FAI INTERNATIONAL PLAYER OF THE YEAR
4 April 2015
Congratulations to Jeff Hendrick on his selection as FAI Young International Player of the Year for 2015.
Jeff is pictured after receivin ...
ACADEMY CUP KICKS OFF
3 April 2015
Long months of preparation has finally come to fruition today when St Kevin's Boys and Celtic kicked off this year's Tournament with ...
IRISH UNDER 17's QUALIFY FOR FINALS
THE Republic of Ireland qualified for the UEFA U17 Championships finals after a dramat ...
27 March 2015
IRISH UNDER 17's STILL IN CONTENTION IN EUROS
24 March 2015
12 PREMIER SFAI CUP WIN & OTHER CUP RESULTS
Our 12 Premier team moved into the semifinal of the SFAI Danone Cup with a comfortable 4-0 win over Rivervalley ...
23 March 2015
17 MAJOR REACH DDSL LEAGUE CUP SEMI FINAL
Our 17 major team progressed to the semi final of the Skelly cup with a 3 - 0 victory over Knockmitten Utd.

A brace from man of th ...
23 March 2015
EOGHAN STOKES & SEAN HEANEY IN IRISH UNDER 19 EURO SQUAD
Eoghan Stokes (Leeds United) and Sean Heaney (Shelbourne) have been named in the Irish Under 19 squad for the forthcoming Elite Qualifying Round of ...
16 March 2015
FAI NOMINATIONS FOR EX SKB PLAYERS
Four former St Kevin's Boys Club players are among the nominees for Player of the Year awards on the lists released by the FAI yesterday.
...
12 March 2015
JACK BYRNE IN IRISH UNDER 21 SQUAD
14's & 15's MOVE ON IN CUPS - 13's OUT & OTHER NEWS
Gavin Kilkenny was in sparkling form as our 15 Premier team advanced to the semi-final of the SFAI Evans Cup with a 5-0 win over Lucan United at Sh ...
9 March 2015
4 PLAYERS IN IRISH UNDER 16 SQUAD
A late call up for Shane Stokes brings our representation in the Irish Under 16 International squad to 4 where he joins team mates Thomas Byrne, Ja ...
9 March 2015
17's OUT OF FAI CUP
Under 17 FAI Cup Quarter Final
BUSY WEEK OF INTERNATIONAL DUTY FOR SKB PLAYERS AT 17 18 19
This week was a busy week for SKB players (both current & former) who were in action for Irish International teams at Under 17 18 and 1 ...
27 February 2015
SUNDAY NEWS
The run of our Under 12 and Under 16 NDSL Premier teams in the SFAI Danone and Barry Cups came to an end yesterday as the 12's were defeated 5- ...
23 February 2015
SFAI CUP WINS FOR 12's & 15's
Our Under 12 DDSL Premier team moved into the last 8 of the SFAI Danone Cup with a penalty shoot-out win (4-3) over Belvedere at the Clontarf All W ...
21 February 2015
ACADEMY CUP 2015 FIXTURES
17 February 2015
ACADEMY CUP 2015




UNDER 16 INTERNATIONALS
Jamie Hamilton and Thomas Byrne featured in the starting eleven for the Irish Under 16 side for their second game the UEFA Under 16 Development Tou ...
17 February 2015
LATEST WEEKEND RESULTS
Our Senior Saturday team's long run in the Leinster Junior Cup came to an end on Saturday afternoon when despite coming from behind twice they ...
16 February 2015
SKB PLAYERS CALLED UP FOR IRISH SQUADS
There are 5 SKB or ex SKB Players in the Irish under 17 International team who will meet their Croatian counterparts in two fixtures in Zagreb on T ...
16 February 2015
FIRST NDSL CALL UP FOR 3 SKB NDSL PREMIER PLAYERS
The NDSL under 13 squad have included three SKB players from our under 13 Premier NDSL team for their upcoming All Ireland Inter League fixture awa ...
13 February 2015
1st TEAM Win 3-1 v DONNYCARNY UNITED
Our 1st team bounced back to form against Donnycarny United in their AUL Premier A League game tonight in Parnells as they put la ...
11 February 2015
FAI UNDER 17 CUP - SKB TRAVEL TO CORK
FAI UMBRO UNDER 17 CHALLENGE CUP





10 February 2015
IRELAND V AUSTRIA SHANOWEN ROAD
REPUBLIC of Ireland U16 Head Coach Tom O'Connor has named his squad for the UEFA Development Tournament.
O'Connor's sid ...
10 February 2015
COACHING COURSE CANCELLED
The under 8 and under 9 coaching course organized by the DDSL / FAI in the Leisurepoint Sports Fitness Centre All Weather pitch Cardiffsbridge Road ...
4 February 2015
SFAI CUP SUCCESS TODAY
Five SKB teams were involved in last 32 SFAI Cup action today at various venues spread throughout the country.
A superb strike after five ...
31 January 2015
GROUPS FOR ACADEMY CUP 2015
17 SUPER REACH FAI QUATER FINAL & OTHER RESULTS
A goal up after one minute (Ross Nally) pegged back to 1-1 after four and back ahead 2-1 (Ross Coyle) before the tenth minute had elapsed such was ...
26 January 2015
DANIEL BERGIN HITS 4 AND OTHER SSG RESULTS
Daniel Bergin did it again at the weekend for our 10A side with a quick fire hat trick on Sunday against Cambridge Boys with goals in the 1st< ...
26 January 2015
1st TEAM BACK IN FORM
Our 1st team recovered from last weeks heavy defeat to Sherriff Y C in the AUL Nivea Cup and moved into fourth place in ...
19 January 2015
SKB SENIOR SATURDAY TEAM WIN 2-0 IN LEINSTER JUNIOR CUP
Our Senior Saturday team advanced into the sixth round of the Leinster Junior Cup with a fine 2-0 win in extra time over a much fancied Crumlin Uni ...
17 January 2015
13's 14's & 15's in WBA
12 January 2015
Our 13, 14 and 15 Premier squads had a tough three days of training and games in their visit to West Bromwich Albion over the weekend. They had a t ...
1st TEAM OUT OF NIVEA CUP
Yesterday at Shanowen Road our 1st team faced Sherriff Y C in the AUL Nivea Challenge Cup and after a close game t ...
12 January 2015
DARRAGH LEAHY SIGNS FOR COVENTRY CITY
THREE CHARITIES BENEFIT FROM 9's EFFORTS
Temple Street Children's Hospital, Pieta House and Advic will each recieve a cheque for €450 as a result of the under 9's Christmas To ...
6 January 2015
SKB PLAYERS IN LEINSTER F A SQUAD
The following players have been selected by manager Stephen Finn to play for the Leinster FA Youths squad v Shamrock Rovers U19s at the AUL Complex ...
5 January 2015
TRAINING/GAMES RESUME
All training venues re-open tonight January 5th.
Games for our DDSL teams aged 12 - 18 will resume on Saturday/Sunday January 17th & ...
5 January 2015
CHRISTMAS RAFFLE 2014 RESULT SHEET
CHR CHRISTMAS RAFFLE 2014 RESULT SHEET
19 December 2014
MARRIED v SINGLES CHARITY GAME
St Luke's hospital Rathgar will be the beneficiary of this years Married v Singles game on St Stephens Day which will be held in honour of rece ...
17 December 2014
RESULTS FROM THE WEEKEND
The last weekend of football before Christmas was a good one with important wins for teams at all ages throughout the Club.
On Saturday a ...
15 December 2014
IRELAND UNDER 18 SQUAD - 6 EX- SKB PLAYERS
5 GOALS FOR GAVIN DOYLE....
Highlight of our 14 Premier NDSL 7 - 0 Goodson Cup fourth round win over Woodlawn Sportslink was Gavin Doyle's five goal scoring spree as the h ...
8 December 2014
DATES TO TAKE NOTE OF
Dublin City Council (Ellenfield - Coolgreena - Albert College) will have their last games before Christmas on December 13th & 14th ...
5 December 2014
INTER LEAGUE SQUADS FULL OF SKB PLAYERS
The recent series of games in the FAI Youth Inter League Trophy saw a host of players from SKB's Under 17 and 18 Super teams represent the DDSL ...
2 December 2014
12's & 13's MOVE ON IN SFAI CUPS - 14's OUT
Despite having the lions share of possession our 14 DDSL Premier team could not find a way past a dogged Drogheda Boys outfit who defended in depth ...
1 December 2014
1st TEAM OUT OF LJC & OTHER WEEKEND RESULTS SO FAR
Spurning numerous gilt edged chances including a penalty kick which struck the post our Premier A team could not pull back a 2 nil defecit which&nb ...
23 November 2014
TWO SFAI CUP WINS AT SHANOWEN
With both the DDSL and the NDSL calling all League and League Cup games off this weekend the only two SKB fixtures to survive were at Shanowen Road ...
17 November 2014
BOTH SENIOR TEAMS IN LEINSTER JUNIOR CUP ACTION THIS WEEK
Both of our senior teams are in action this coming week in the third round of the Leinster Junior Cup.
On Friday night at 7-45pm our Seni ...
17 November 2014
LOUIS FRANZONI WINNER OF VANTAGE CLUB TICKETS
Under 12 Major player Louis Franzoni was the winner of our latest Aviva Vantage Club Tickets last night.
Louis recieves 3 premium level t ...
14 November 2014
SKB PLAYERS IN IRELAND SQUADS
Luke Nolan from our Under 15 Premier team has been selected in the Irish Under 15 squad for two games this week against Poland.
The first ...
10 November 2014
UPDATED WEEKEND NEWS
Saturday morning saw two of our small sided teams get a chance to play on the Shanowen Road pitch. 11 A Saturday maintained their unbeaten st ...
3 November 2014
CONGRATULATIONS TO KLOTTO JACKPOT WINNER MICHAEL KEOGH & VANTAGE CLUB TICKET WINNER DYLAN SMITH
OUR BUMPER €4,000 KLOTTO JACKPOT WAS WON LAST NIGHT BY MICHAEL KEOGH OF OUR UNDER 14.3 TEAM - CONGRATULATIONS TO MICHAEL AND HIS FAMILY!!
...
31 October 2014
EMERGING TALENT
20 October 2014
Some of our under 12's photographed prior to their assessment day at the FAI Emerging Talent programme.
Names left to right are: Morg ...
INTERNATIONAL NEWS
Last week saw 5 ex-SKB players on duty for various Irish international teams with Jeff Hendrick and Robert Brady with the Senior team in the Europe ...
15 October 2014
HIGHS AND LOWS OF THE WEEKEND
13 October 2014
Having suffered a 1-0 defeat to Shamrock Rovers in their opening League game our 14 Premier team under the new ...
NEWS
15 September 2014
After the weekend just passed all of our teams are now up and running and Shanowen hosted it's first games of the season over the weekend with ...
LATEST NEWS - LEAGUES START-UP - SPANISH TRIP - INTERNATIONAL ACTION
10 September 2014
After all the hard work done during July and August last weekend saw most of our teams get their season up and ...
TOUGH TESTS AHEAD
Our Under 14 and 16 Premier squads depart next Friday to play in a tournament in Barcelona (Manresa) which includes all the top Spanish Club Academ ...
29 August 2014
NEW SEASON - FRESH CHALLENGES
Last season's record success for SKB teams at all ages has now passed into the history book and a new season is fast approaching that brings wi ...
29 August 2014
VANTAGE CLUB TICKET WINNER - JAMIE HAMILTON
Congratulations to new Under 16 Premier player Jamie Hamilton who was the winner of 3 Vantage Club tickets to next Wednesday's Republic of Irel ...
29 August 2014
SKB ROLL OF HONOUR 2013/2014
29 August 2014
SKB v ST PAULS - 0-2
Following two excellent wins in their first two Premier A games over the past fortnight our first team suffered their first defeat tonight in the A ...
28 August 2014
LATEST MID WEEK NEWS
Congratulations to SKB 1st team player Paddy Brophy who made his debut with the Irish International Amateur team who started their campaign w ...
28 August 2014
GARDA WARNING
Gardai have warned us that any cars parked illegally in the Ellenfield area - on paths or on double yellow lines will be issued with an on the spot ...
21 August 2014
GOOD START TO THE SEASON FOR AUL SECTION.. TUESDAY GAME DEFERRED
St Kevins Boys – 5
Trinity Donaghmede – 1




18 August 2014
COLCHESTER UNITED HERE AGAIN TO PLAY SKB 14's & 15's
This week we again host Colchester United when their Under 15's visit to play three games against us starting on Wednesday evening at 6-45pm in ...
18 August 2014
MEXICANS IN TOWN & OTHER EARLY SEASON FRIENDLY LIST & RESULTS
Colchester United Under 17's rounded off their short visit to SKB with a 4-2 win against an SKB 15/16's selection having suffered defeats e ...
2 August 2014
4 SKB PLAYERS IN IRISH UNDER 17 SQUAD
REPUBLIC of Ireland U17 Head Coach Tom Mohan has named 4 SKB players in his squad for an invita ...
29 July 2014
TRIAL NEWS
Over 800 players have so far attended this years SKB trials which conclude this evening.
Unfortunately we are not in a position to offer ...
10 July 2014
STRICTLY COME DANCING A HUGE SUCCESS
7 July 2014
The St Kevin's Boys Strictly Come Dancing was a definite success on Saturday night at the Crowne Plaza. It was great to see such a huge t ...
SEASON COMES TO AN END
30 June 2014
Two events over the weekend finally brought the curtain down on the 2013/2014 season.
Our first team lined up in the final of the Liddy C ...
EX SKB PLAYER CONOR DILLON SIGNS FOR GLENAVON
Former SKB player and current Irish Junior International Conor Dillon has been signed by Northern Ireland Premiership si ...
24 June 2014
SKB PLAYERS SHARE IN DDSL KENNEDY CUP WIN
Congratulations to all our players Brian Maher, Gavin Kilkenny, Jake Byrne, Dylan Turner, Ruari Patton, Jack Ryan and Luke Nolan along with staff P ...
20 June 2014
STRICTLY COME TO ST KEVIN'S
STRICTLY COME DANCING COMES TO ST K ...
13 June 2014
FANTASTIC TREBLE FOR 16 PREMIER
Last night our 16 Premier completed a treble for this season by adding the DDSL Under 16 Premier League title to the SFAI Barry Cup and DDSL McGrat ...
11 June 2014
18's WIN DDSL SUPER LEAGUE
On Friday night at Shanowen Road our 18 Super (1996's) got the 3 points they needed in a 6-3 win over Crumlin United and thereby clinched the D ...
9 June 2014
13's DDSL PREMIER LEAGUE WINNERS & 16's & 18's NEARLY THERE TOO
The DDSL Under 13 Premier League was won in great style last night as our 13 Premier overcame their closest rivals Belvedere FC 2-1 to add this yea ...
4 June 2014
INTERNATIONAL CALL UPS FOR EX SKB PLAYERS
REPUBLIC of Ireland U19s began their UEFA U19 Championships Elite Qualifying Rou ...
29 May 2014
15 PREMIER GREAT RUN CONTINUES
Our under 15 Premier completed their second treble in successive seasons when beating Home Farm 1-0 at Shanowen Road on Tuesday May 27th to win the ...
29 May 2014
SKB TRIALS FOR SEASON 2014/2015
ALL TRIALS WILL TAKE PLACE IN ELLENFIELD PARK
Tuesday July 1st under 12 (born 2003) 6.15pm under 13 (born ...
27 May 2014
13 NDSL PREMIER LEAGUE WINNERS
Congratulations to our under 13 NDSL Premier team who won their League on Sunday morning coming from behind to win 3-1 away at Ballymun United and ...
27 May 2014
SUMMER/ROAD LEAGUES BEGIN TUESDAY 3rd JUNE
SKB Summer Leagues/Road Leagues will begin on Tuesday June 3rd with all games taking place in Ellenfield Park.
MEMORABLE WEEKEND FOR ST KEVIN'S BOYS CLUB
19 May 2014
In the long and distuinguished history of SKB the weekend of May 17th / 18th 2014 will be remembered as another great landmark as ...
1st TROPHY OF THE SEASON AS 16 PREMIER WIN DDSL McGRATH CUP
Our Under 16 Premier team won the DDSL McGrath Cup tonight in a dramatic incident packed final against Templeogue United at Mobhi Road.
...
8 May 2014
LATEST NEWS / ACADEMY CUP
23 April 2014
The 6th Academy Cup tournament came to an end on Sunday afternoon with Ajax emerging victorious after three days of fantastic weather, great crowds ...
SAINTS IN FINAL
St Kevin's Boys under 13 team qualified for the final in our Academy Cup Tournament. They saw off Arsenal yesterday in the semi final wit ...
20 April 2014
NATIONAL CUP TIES COMING UP
Easter Monday sees our 18 Super team travel to Kilkenny to play Evergreen FC in the semi-final of the FAI Youths Cup at 2pm. Details of travel ...
14 April 2014
BYRNE & STOKES SUCCESS WITH IRISH UNDER 15's
Scotland 0 Republic of Ireland 2
THE Republic of Ireland U15 side wrapped up their programme for the season with an impressive 2-0 victor ...
10 April 2014
ACADEMY CUP 2014
RYAN ROBINSON LEADS IRISH UNDER 18's TO VICTORY IN CZECH REPUBLIC
Czech Republic 0 Republic of Ireland 2
REPUBLIC of Ireland U18 Head Coach Paul Doolin has hailed his young squad after their impressive 2 ...
4 April 2014
IRISH 18's IN CZECH REPUBLIC
1 April 2014
4 members of last years SKB under 17 treble winning team are in the Czech Republic this week as part of the Irish International under 18 squad for ...
SKB PLAYERS ON IRELAND DUTY
1 April 2014
Last week saw five SKB players involved in the Irish under 17 International squad they finished t ...
BIG WEEKEND - BIG WINS
24 March 2014
Seldom over one weekend has so many vital SKB National Cup and League fixtures been down for decision and it turned out to be a really successful o ...
UPCOMING CUP TIES
Under 15 SFAI (Last 16) St Kevin's Boys v Carrick United
...
18 March 2014
WEEKEND REPORT
Our uner 10 A Saturday and Sunday teams got their first taste of tournament football when they travelled to take part in the inaugural Limerick I.T ...
18 March 2014
CUP RESULTS
There were two very important SFAI Cup games decided over the weekend with our 13 Premier and 15 Premier recording great wins in the SFAI Troy Cup ...
10 March 2014
SKB PLAYERS IN IRISH UNDER 19 SQUAD
7 March 2014
Republic of Ireland 2 Romania 2
Both Josh O'Hanlon and Alex O'Hanlon (no relation) a ...
SKB PLAYERS IN IRISH UNDER 17 SQUAD
Republic of Ireland 1 Austria 1
Ex SKB players Anto Dolan, Anto Breslin and Shane Elworthy ( ...
7 March 2014
NEWS FROM THE WEEKEND

3 March 2014
Jack Byrne winning the under 17 '3' FAI International player of the year award rounded off a great weekend for the Club.

...
ANTO DOLAN & JACK BYRNE
Congratulations to ex SKB players: Anto Dolan now with Fulham and Jack Byrne Manchester City who have received nominations for Player Of The Y ...
14 February 2014
WHITE COLLAR BOXING FOR SKB?
Club P.R.O. Neil Fox is trying to gauge the level of interest among Club members for a white collar boxing event, should you be interested or have ...
12 February 2014
18 SUPER INTO LAST 16 OF FAI YOUTH CUP
Our 18 Super team was not flattered by their 6-0 FAI Youth Cup win yesterday over Aungier Celtic at McKelvey's all weather pitch in Charle ...
10 February 2014
Academy Cup highlights on Youtube
6 February 2014
We had a fantastic turnout for the launch of our 2014 Academy cup with our guests of honour John Giles and John Delaney. Take a look at our sh ...
WEEKEND RESULTS
On a weekend where once again inclement weather was the dominant factor our 12 Major played in the SFAI Danone Cup for the third week running havin ...
4 February 2014
PHOTOS
Photos from various games througho ...
14 October 2013